¡Enchiladas! Hecho en Mexico - 6001 W. William Cannon 3.6/5
Rusty and Steve were in the mood for mackin' on some enchiladas, so they met up with Austin music legend Tommy Mack who suggested Hecho en Mexico. The place wasn't busy so the boys were quickly seated, ordered some iced teas, and started in on the chips and salsa. The chips were average - not bad, not great. The salsa was interesting. A pureed style with peppers, no cilantro. Very fresh tasting. Hecho en Mexico is known for using very fresh ingredients and serving up interior Mexican dishes. The salsa was indeed very fresh and less spicy than Steve was expecting with all the pepper seeds it had in it.
Steve went with the lunch special with three beef enchiladas with salsa ranchera, while Tommy and Rusty went with the main menu. Tommy ordered the enchiladas diablas with habanero-macho-salsa and Rusty chose the beef suizas tradicionales with salsa verde and sour cream. Tommy ordered lettuce and tomato on his enchiladas, a personal trick of his to cool the temperature. Tommy spent his "school years" growing up in El Paso, Texas and remembers enchiladas being pretty popular, tacos - not so much. Tommy headed to Austin in the mid-eighties and fronted Texas thrash metal band Young Thunder.
Tommy's enchiladas diablas were aptly named, with a strong heat that led him to wisely pace himself to avoid the overburn. The filling was huge chunks of tasty chicken that were tender and flavorful. There was a plethora of the spicy habanero-macho-salsa and Tommy thought the habanero flavor really stood out. Tommy appreciates the fresh ingredients and the resulting flavors. Tommy started hard rock band The Lifters in the early nineties.
Rusty liked his enchiladas suizas tradicionales with beef and salsa verde and sour cream. He liked the creaminess but could have used a little more spice. The salsa verde was nice and smooth with a savory richness although Rusty wouldn't have minded a little more of it. Rusty wasn't impressed by the beans or rice finding the rice a little bland. Tommy formed a little band with fellow Austin rock godfather Jason McMaster in 1991 called SSIK, a tribute to Kiss. SSIK was Austin's first and arguably best tribute band.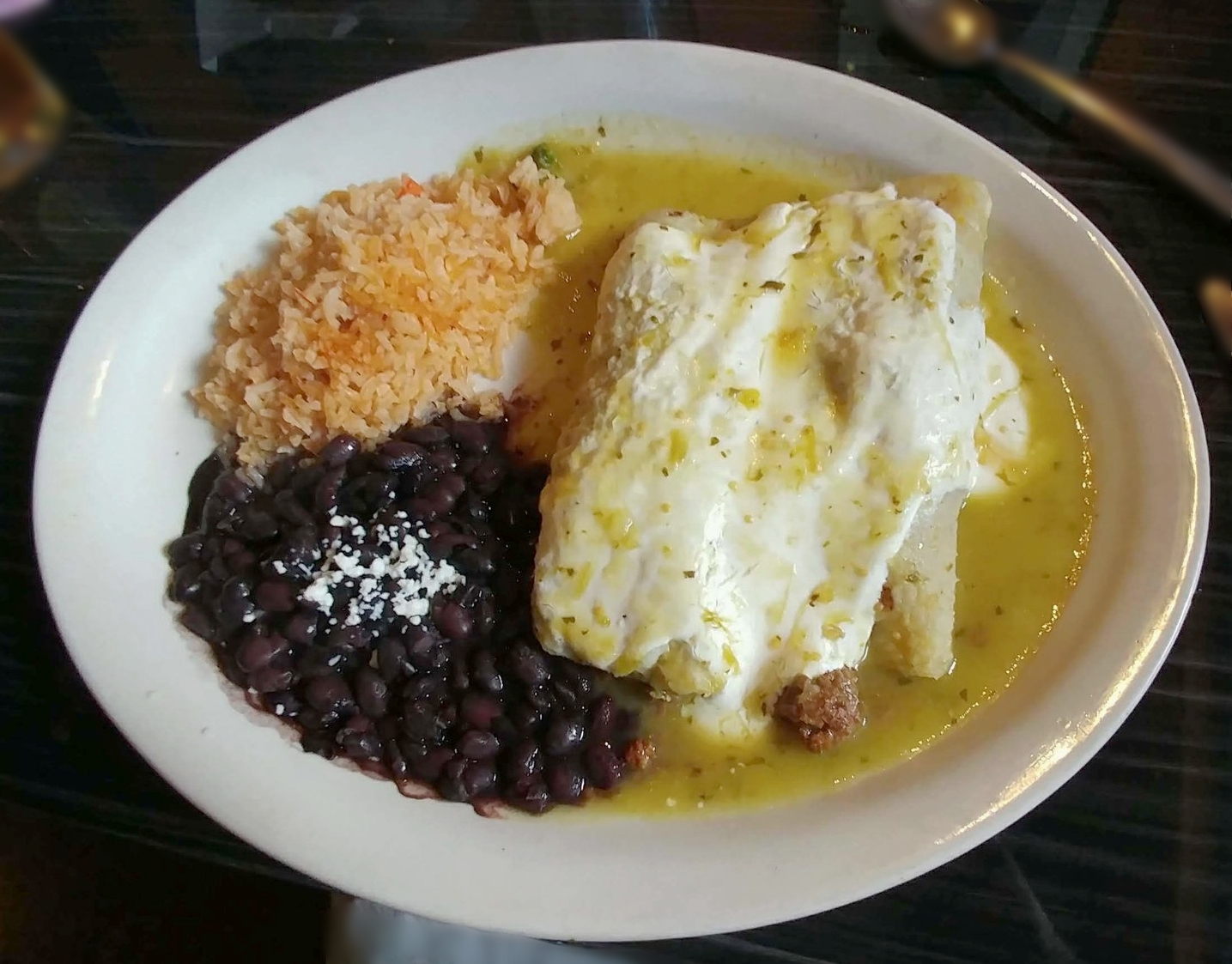 Enchiladas Suizas Tradicionales
Steve really enjoyed his beef enchiladas with salsa ranchera. While not particularly spicy there was a strong savoriness to the ranchera salsa. The tortillas seemed as if they had just been made and the beef filling was tasty. Steve would have preferred the white cheese on the enchiladas to be more melted but it was tasty all the same. Steve always loves a bean choice and he loved his charro beans, rich in flavor with chunks of bacon. Steve thought the rice had a nice delicate flavor with a brothy aspect to it.
The service was attentive and friendly at Hecho en Mexico. The food was very fresh and tasty. At $8 Steve's lunch special was a great deal and $11 and $12 for the other plates were quite reasonable. Tommy Mack recommends Hecho en Mexico as a perfect place for a date. Tommy maintains a refreshingly positive outlook on the future of Austin and the music scene in particular. His talent and work ethic have made him an inspirational figure in the Austin music scene for thirty plus years. -¡!-
A small sample of the music of Tommy Mack: