Taquerias Las Chivas Jalisco - 8624 North Lamar 3.25/5
Rusty and Steve headed up to Taquerias Las Chivas Jalisco to catch up with Austin's much beloved radio personality, Loris Lowe, and eat some enchiladas! It was a beautiful Texas summer afternoon and the boys were hungry. After exchanging pleasantries, Loris and the boys got down to business and put in their order. The chips were unexciting but the three salsas weren't bad. The green salsa wasn't as spicy as some but still a bit much for Loris. The smoky chipotle was quite smoky and earthy. The red salsa was a pureed style, not particularly flavorful with a mild heat.
Taquerias Las Chivas Jalisco is one of those places with a revolving lunch special menu which didn't involve any enchiladas on Monday so the regular menu it was. Loris is a big fan of all kinds of enchiladas but when pressed for a favorite may lean toward chicken with verde sauce, which she went with today. Steve decided on the beef enchiladas with red sauce, while Rusty opted for the beef with chili con queso sauce. Loris thoughtfully suggested sharing samples of all the enchiladas, which was fun. Steve and Rusty don't usually share their enchiladas with anyone but couldn't resist Loris' grace and good manners.
The chicken verde enchiladas Loris ordered were the hit of the party. Three enchiladas overstuffed with tasty chicken and covered with a delicious green sauce Loris found to be tangy and spicy - "a pretty unique tomatillo sauce". Smothered in yummy cheese, no less. Steve and Rusty agreed they were quite good.
Rusty went off the beaten track with his chili con queso covered enchiladas. They were almost too cheesey, but Rusty liked the queso sauce and thought it had good flavor. He enjoyed the traditional picadillo filling with mixed vegetables.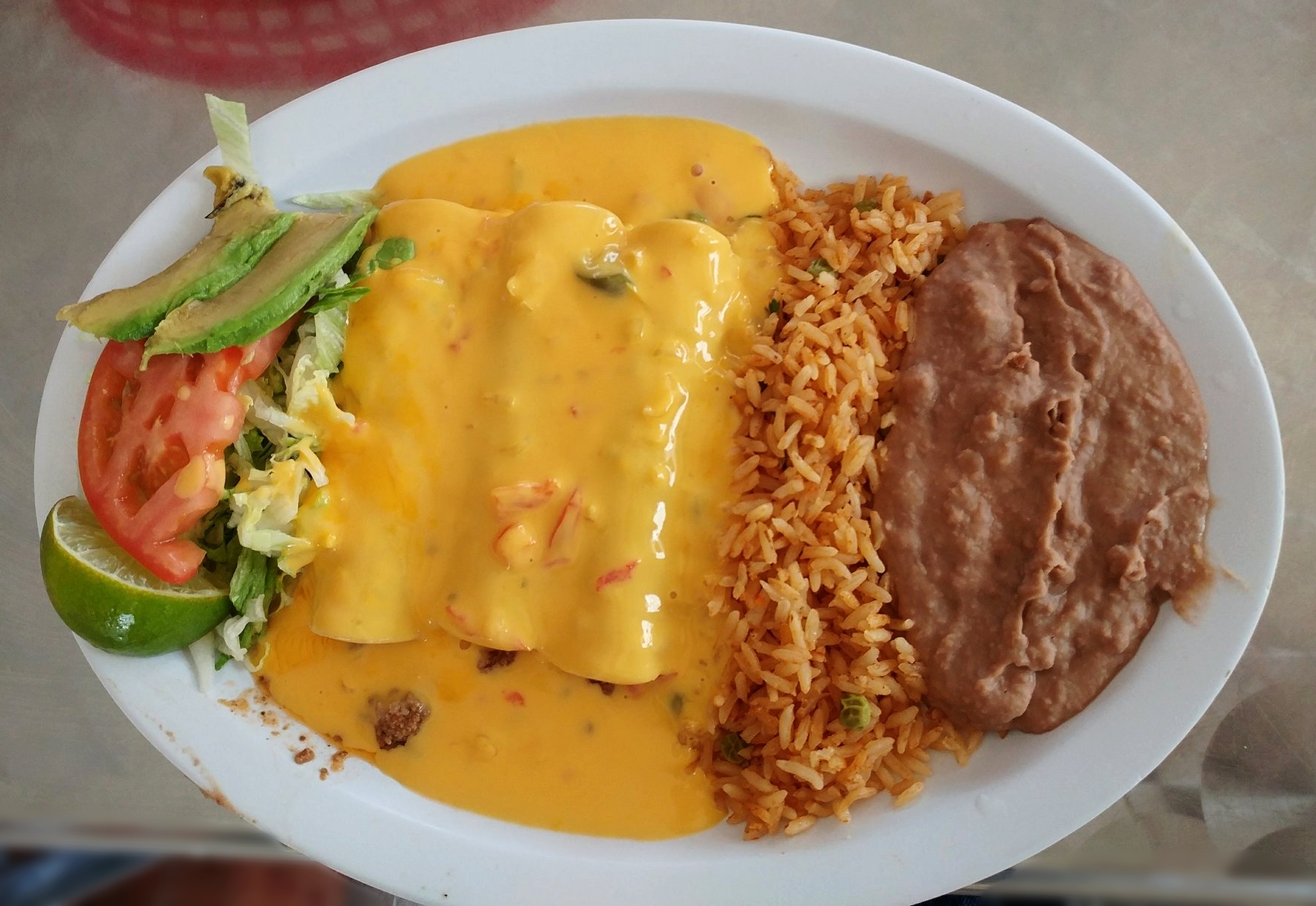 Beef with Chili con Queso
Steve, too, liked the plentiful picadillo filling in his beef enchiladas with red sauce. The red sauce was sweeter than most, not particularly spicy but rich, thick and smooth. A good bit of melted cheddar fought hard for the cause.
Loris agreed with the boys that the avocado topped salad was a nice touch. The rice and refried beans were passable but not standout. The rice was moist with a mild flavor, while the beans weren't particularly flavorful. The service was a bit terse. Steve's tea went empty for longer than necessary, though he hardly noticed due to the good company. The waitress never smiled once during their visit causing the boys to reflect and give pause, hoping she found the opportunity to smile before the day was over. If you need a reason to smile just tune in to Loris on your dial! Buen Provecho. -¡!-
Join Loris on KLBJ 93.7 FM Tuesday nights at 11:00PM for Local Licks Live.
Join Loris on KGSR 93.3 FM Sunday nights at 10:00PM for Lone Star State of Mind